Bitcoin
Bitcoin Hash Rate Suffers Near 40% Drop Amid U.S. Deadly Winter Storm
As extreme weather conditions left more than one million without power on Friday, several U.S.-based Bitcoin miners have paused operations.
Bitcoin's hash rate plummeted roughly 38% in the run-up to the holiday weekend as U.S.-based miners shut down operations during a bout of extreme weather.
What meteorologists are calling a "bomb cyclone," which has stirred up blizzard-like conditions in some places, has left many in Maine and New York without power, according to data from PowerOutage.us. As of Friday, December 23, there were more than one million businesses and homes without power.
This has also taken a deep toll on various miners, too, who've rushed to turn off their machines.
According to data from Glassnode, the network's hash rate fell to 156.36 EH/s on December 24 from 252.98 EH/s on December 21, which is the biggest daily drop since the beginning of June.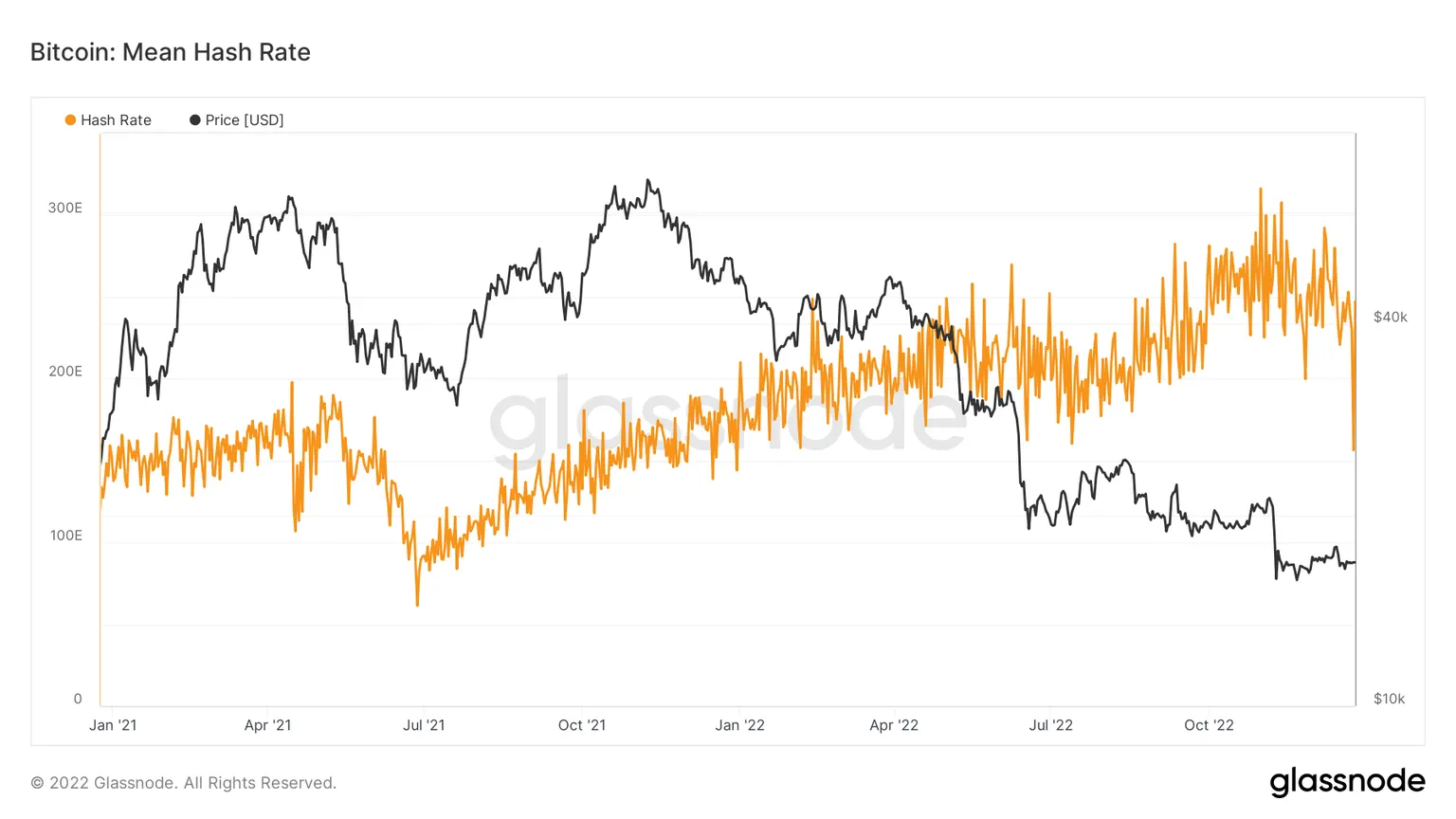 Hash rate measures the total computational power used to mine and process transactions on a blockchain network. The higher the hash rate, the more decentralized and secure the network becomes.
Bitcoin miners curtail operations
The extreme weather stretched as far to the South as to the Rio Grande along the border with Mexico, with mining company Riot Blockchain closing down its Rockdale facility in Texas on Thursday "to ensure the safety of our team members."
Core Scientific, another major Bitcoin mining company, which last week filed for Chapter 11 bankruptcy, moved to temporarily curtail its operations on Friday.
"Due to extreme cold weather sweeping across the eastern and southern half of the US, we will be participating in multiple power curtailments to help stabilize the electrical grid. BTC production is expected to decrease during this time," the firm said on Twitter.
The Bitcoin network's hash rate has recovered to 249.02 EH/s by Sunday evening, data from IntoTheBlock shows, with the latest plunge hardly having any impact on the price of the leading cryptocurrency.
Bitcoin is trading at $16,839 at the time of this writing, up 0.6% over the past seven days, per CoinGecko.