NFTs
Bored Ape NFT Artist Seneca Continues on Her Own Path With 'Portraiture'
Untethered to Ape mania, All Seeing Seneca details her new art auction, developing her surreal style, and why royalties matter.
In brief
Pseudonymous NFT artist All Seeing Seneca's latest body of work is being auctioned this week by Phillips.
She led the original design of the massively popular Bored Ape Yacht Club NFTs.
Yuga Labs rode the Bored Ape Yacht Club NFT rocket ship to a $4 billion valuation and big metaverse plans, but it was pseudonymous artist All Seeing Seneca who led the original design of the disinterested Apes. Now they're everywhere.
"It's wild. I mean, I don't think you can ever get used to that feeling," Seneca told us of Bored Ape mania. "You can't not talk about the Apes when you talk about Web3, right? You just can't escape that world. But yeah, it's great."
Although her Ape designs have attracted celebrities, permeated mainstream culture, and been used by NFT owners to create their own projects and products, Seneca has moved on to new frontiers. Her latest body of work, called Portraiture by Seneca, is currently up for sale through auction house Phillips in a sale running until Friday.
Portraiture by Seneca spans three digital animated works minted as Ethereum NFTs, as well as her first physical artwork to go up for auction—an acrylic and spray paint composition called "Portrait of Invocation." The NFTs were minted through HyperMint, a platform launched by crypto payments startup, MoonPay.
The pieces expand upon the style that Seneca showcased this time last year, when she launched her first original NFT artwork at Art Basel in partnership with Internet Computer.
Her latest compositions similarly showcase a woman with oversized eyes, in some cases with vibrant flowers and creatures bursting through the sockets. They're dreamy and surreal works, but tinged with the shock of body horror. Seneca told us that the pieces represent her continued evolution as an artist and an individual.
"The reason why I put so much focus into portraiture is because I find that it's just so effective to convey emotion," she explained. "I was, in a way, facing myself dealing with my own reality."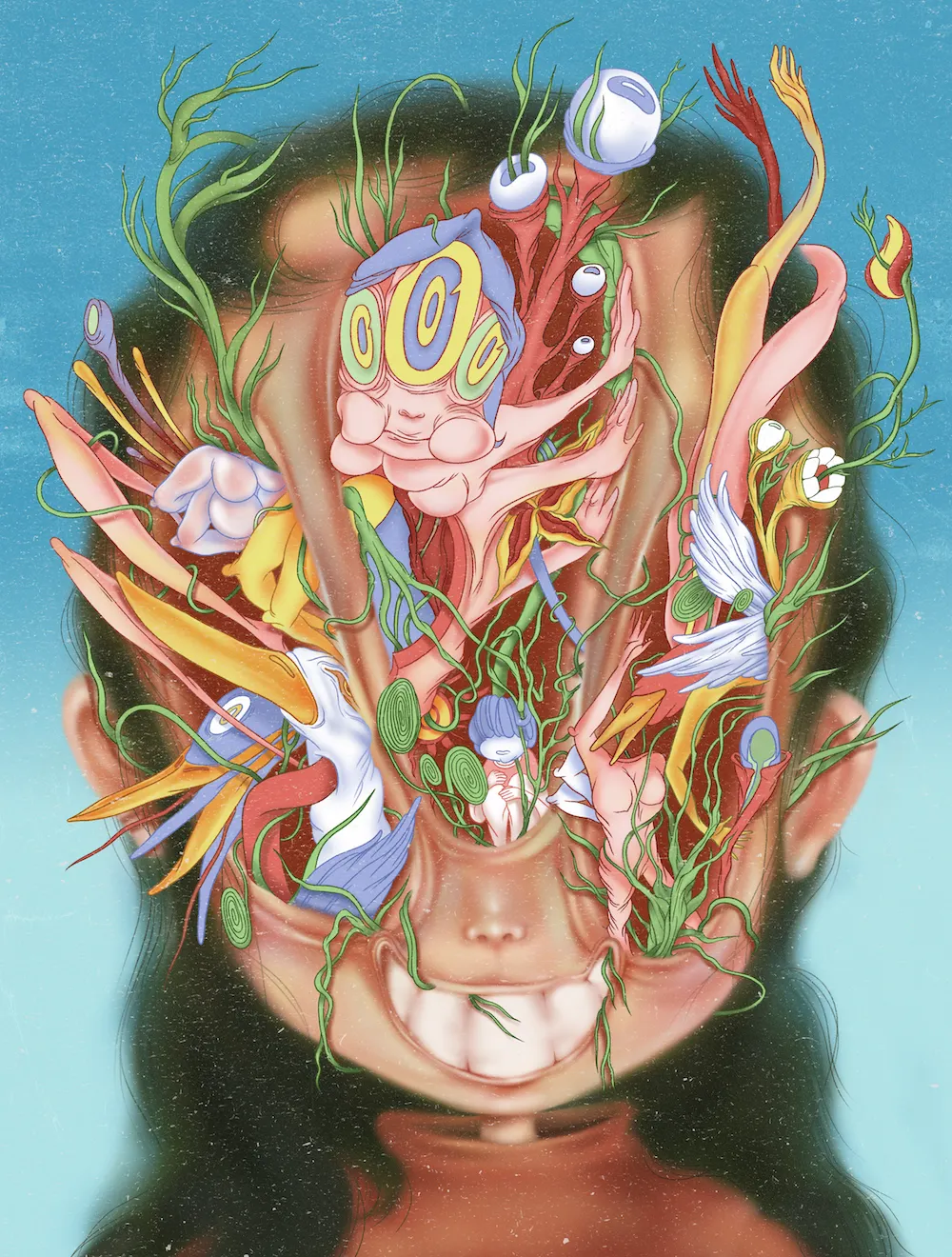 Seneca recently tweeted advice to creators to "master something, then fuck it up in your own way." While she acknowledged a "tongue-in-cheek" tone to the tweet, it's also representative of her own journey to prominence in the crypto art world following formal training as an artist.
"I attended art school, and copying masters' techniques—that was boring to me," Seneca admitted. But it helped hone her personal style, too: "In order to create your own style and your own original artwork, you have to mess it up," she added. "You have to dissect it."
Beyond the Apes
Although momentum has cooled amid the crypto bear market, Bored Apes are inescapable across Web3. The project has topped $2.5 billion in trading activity to date, and Seneca said she's excited by how NFT owners have tapped the IP rights to develop their own Ape-based personas and projects.
"I really loved how the audience was able to take that character and kind of make it their own," she explained, "and see themselves through that character—which is something I am aiming for in my own personal work."
Seneca served as lead artist for the original Ethereum-based collection, developing the Ape body artwork and some of the unique traits. She told Rolling Stone in January that the lack of recognition for her role in the project was "pretty terrible for an artist," but now she appears more accepting with the level of acknowledgment from the Web3 community.
"I think that's an aspect of putting out work that you can't control, right? So that's not my goal," she said of recognition and respect for her Bored Ape contributions. "I'm just there to show the best that I can do, and whatever life that takes from there, so be it."
Asked if she's still on good terms with Yuga Labs or if they could potentially collaborate again, Seneca replied that she remains "connected" with Yuga, but that "we have our separate paths."
Now signed with major agency United Talent Agency (UTA), Seneca has various plans ahead and said that she would love to explore installation work or creating an animated film.