Bitcoin
,
News
Coincidence? Bitcoin Wallet Accumulates 160K BTC As Soros Fund Talk Spreads
As Bitcoin struggles to make a decisive move upwards, big news has had little effect to aid the bulls during this ongoing sell-off. From Morgan Stanley buying 28,000 shares of the Grayscale Bitcoin Trust (GBTC) to MicroStrategy holding over 100,000 BTC, to 640 banks in the U.S. offering BTC to their clients, many announcements have gone relatively unnoticed as BTC's price bleeds.
The entry of the investment giant Soros Fund Management into the crypto market could have the same fate. The investment firm has $28 billion in assets under management and has begun to actively trade Bitcoin, according to a report by TheStreet.
This news website cites two sources familiar with the matter. The firm executives gave the green light for the operation and could trade with other cryptocurrencies.
These events have an apparently small impact on BTC's price, in the long run, they could create more demand or push down the market. It depends on how the Soros Fund will trade Bitcoin.
In the crypto community, some have begun to speculate on the possible effect on the market. Pseudonym trader and analyst Byzantine General jokingly tweeted about a "massive wallet inflow bubble" when BTC's price was at $32,000 and asked his followers: Did Soros acquire a bag?
There's an absolutely massive wallet inflow bubble around 32k. Did Soros aquire a bag? 🤔😏$BTC pic.twitter.com/7GY4Q6rvbe

— Byzantine General (@ByzGeneral) July 1, 2021
Yes, you read that right. That's a 163,300 bitcoin inflow which is still sitting there in the wallet it got sent to.
The investment firm's founder George Soros is also known as "The man who broke the bank of England". This is due to a short position that he took against the British pound sterling that made him a profit of over $1 billion during the currency crisis of 1992.
Although Byzantine General made a joke with his tweets, many in the crypto community expressed concerns that the fund could "break Bitcoin" just as well. Others fear that this giant wants to make the crypto market their personal whale playground. Time will tell.
Bitcoin At An Infection Point? A True Hedge Against Inflation
On the other hand, it's positive that BTC adoption continues to rise amongst institutions such as the Soros Fund Management. Back in March 2021, its CIO Dawn Fitzpatrick talked about how Bitcoin was at an inflection point.
At that moment, she revealed that the firm made investments in crypto infrastructure and praised the industry for its significant maturation. An asset such as BTC becomes more relevant in the current macro-economic environment. The Soros Fund CIO said:
When it comes to crypto in general, I think we are at an important moment in time. Something like Bitcoin could have remained a static asset, but the fact that in the last 12 months we have increased the money supply by 25%, there is a real fear of currency devaluation.
For Fitzpatrick, BTC is a commodity, a physical asset with better features than gold. With the rise of central bank digital currencies (CBDC), the executive believes BTC will gain more relevance. This narrative has been gaining momentum as China moves to further test its digital yuan.
At the time of writing, BTC trades at $33,577 with 3.41% losses in the daily chart. The cryptocurrency was rejected in the mid-range of its current levels and now sits at support. If it loses this price, investors could see another retest of support at $30,000.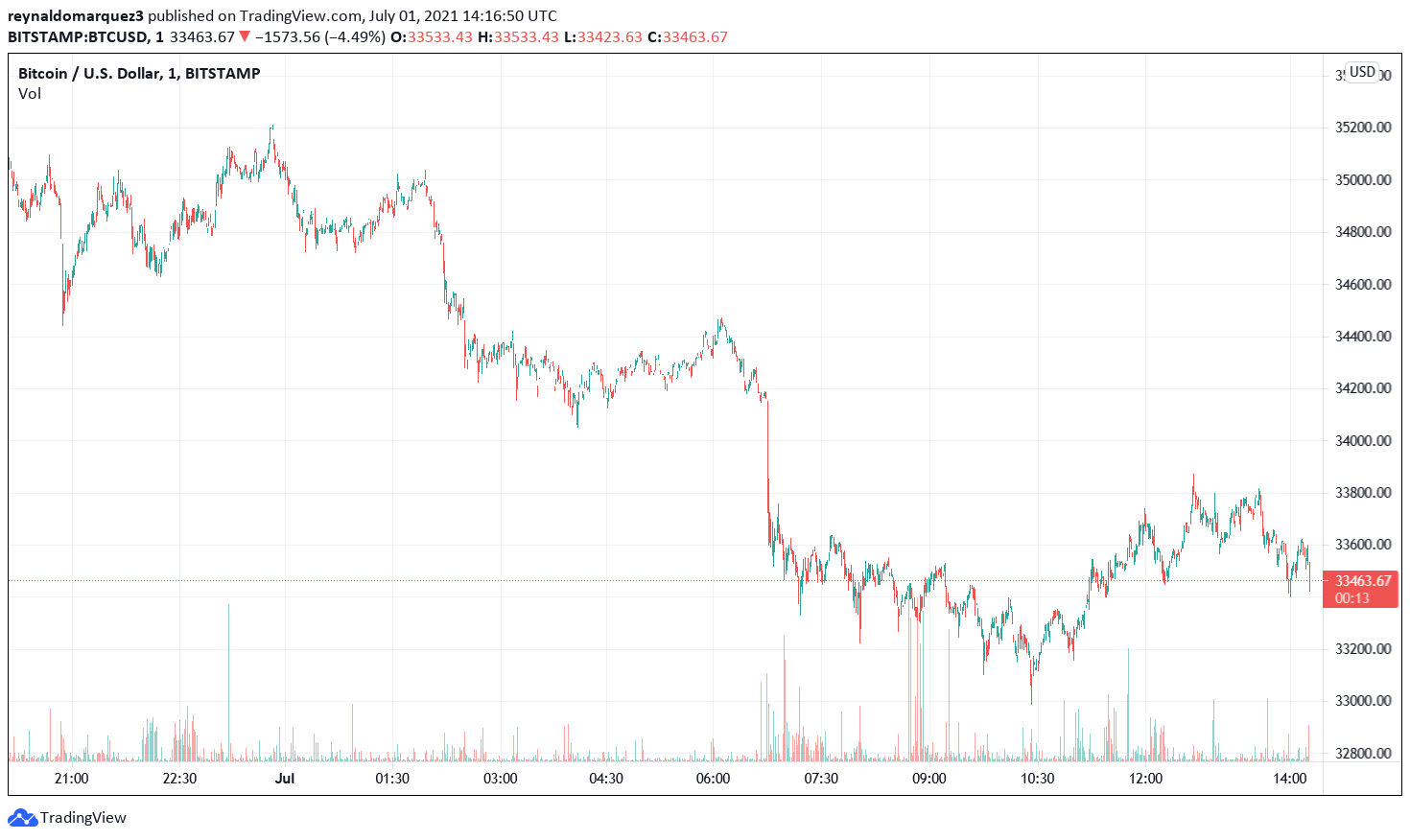 BTC moving sideways on critical support. Source: BTCUSD Tradingview