News
Music Streaming Platform Audius Surges 143% on TikTok Integration
Audius is the first music streaming service to partner with TikTok.
The music streaming platform Audius has shot up 143% after the news of its partnership with TikTok was announced Monday.
TikTok Integrates Audius
Audius is soaring.
The blockchain-based music streaming platform announced its partnership with TikTok Monday, marking the social media giant's first-ever music streaming partnership.
📢 Announcing the Audius TikTok integration! 📢

You can now share your tracks directly from Audius to TikTok!

Follow and tag us in your videos using an Audius track for a chance to win 50 $AUDIO.

Official TikTok → https://t.co/mP0BKOjzRV pic.twitter.com/3ydBQq3GzL

— Audius 🎧 $AUDIO (@AudiusProject) August 16, 2021
The partnership will allow users to share tracks directly from the platform to TikTok via a new feature called TikTok Sounds. Currently, the process of sharing music on TikTok is "clunky," according to Audius co-founder and chief product officer Forrest Browning. By integrating with TikTok, "Any artist can take a song they already have on Audius and just export it over to TikTok in one click," Browning told The Rolling Stone in an interview Monday.
Audius' native token AUDIO shot up on the news, briefly reaching highs of $3.94. While the token made a 143% upward move Monday through Tuesday, it fell short of its $4.95 all-time high set in March. The AUDIO token has since cooled off, trading for $3.20 at the time of writing.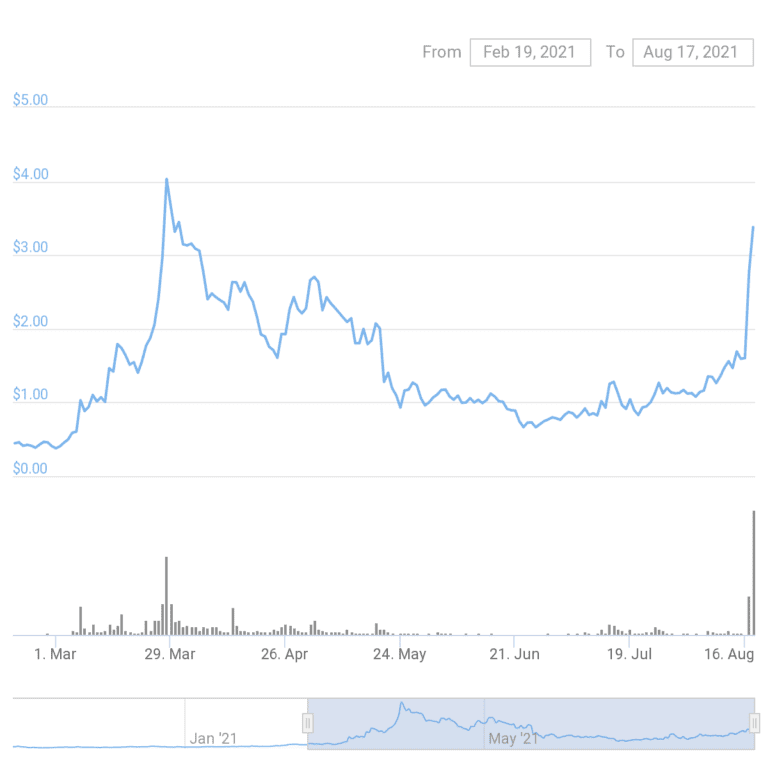 The AUDIO token allows artists on the platform to monetize their work by offering a range of exclusive features to fans. Additionally, the token can be staked to generate yield and secure the network and used to vote on protocol governance, allowing users to shape the platform's future.
By integrating with TikTok, Audius will expose the platform's 689 million monthly active users to the Ethereum network. However, whether those users will know they're using crypto technology remains to be seen. According to Browning, roughly 95% of Audius users "have no idea that blockchain is even involved."
Audius is not the first protocol to generate interest in cryptocurrencies through music. Last month, Solana enjoyed a boost in interest following the project's sponsorship of the Lollapalooza festival. Dogecoin enthusiasts have also announced plans for a similar music festival this fall, working under the name "Dogepalloza."