News
,
NFTs
OpenSea Employee Found Insider NFT Trading
An OpenSea employee bought NFTs before they were featured on the platform and later sold them at a profit after their value soared.
Key Takeaways
Nate Chastain, Head of Product at OpenSea, has come under fire for insider trading of NFTs promoted by the platform.
On-chain data suggests that Chastain used insider information to trade NFTs when they were promoted and return the profits to his public wallet.
OpenSea has published a blog post that appears to confirm the accusations, describing the events as "incredibly disappointing."
Nate Chastain, who heads product development at OpenSea, the largest NFT marketplace in the world, is facing accusations of insider trading from the crypto community.
OpenSea Admits Insider Trading
Nate Chastain, Head of Product at OpenSea, has come under fire for insider trading of NFTs promoted by the platform. Chastain allegedly used confidential information to buy non-fungible tokens (NFTs) before they were promoted on the homepage and sold them at a profit.
When OpenSea promotes an artist on the homepage, the artist's NFTs tend to jump in value, similar to how tokens often surge after landing a Coinbase listing. It is believed that Chastain had prior knowledge that certain NFTs would be listed on the homepage and used that information to frontrun the rest of the market.
The crypto community first caught onto the activities after Twitter user Zuwu posted a message indicating that they had analyzed on-chain data. Their post accused Chastain of using "a few secret wallets" to buy NFTs ahead of homepage listings. Zuwu and other Twitter users who responded to the thread found that someone had engaged in "flipping" NFTs as they were featured on the homepage and returned the profits to Chastain's public address commencing 0xa3a4. The same address is registered with the Ethereum Name Service domain natec.eth and owns CryptoPunk #3,501, which Chastain also uses as his Twitter avatar.
Using another address commencing 0x7942, someone thought to be Chastain bought an NFT minutes before they were promoted on OpenSea's homepage and Twitter account on Sep. 14 then returned the profits to Chastain's natec.eth address.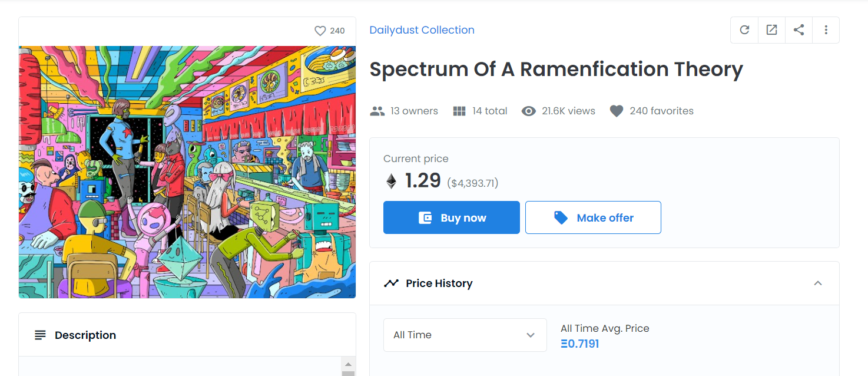 The transaction history for the featured NFT, Spectrum Of A Ramenfication by Dailydust, shows that the 0x7942 address bought the pirce for 0.25 ETH at 5:05 UTC on Sep. 14. A few minutes later, OpenSea promoted Dailydust with a preview of Spectrum Of A Ramenfication on its Twitter account.
The price of the NFT jumped immediately after the social media post. The 0x7942 address sold the token for 1.5 ETH at 5:26 UTC, making a profit of 500%. The address also bought and sold other NFTs by Dailydust for similar returns. Just four minutes after selling the piece, the address sent 7.1 ETH to natec.eth's wallet.
Further analysis gathered by BlockBeats and published at 8BTC suggests that Chastain has profited 19 ETH worth around $65,000 from insider trading NFTs on multiple occasions. Moreover, Chastain has previously admitted to buying in-demand artwork by a featured artist; he faced pushback and similar accusations of insider trading at the time.
I just wanted to secure one of these before they all disappeared tbh

— Nate Chastain (natec.eth) (@natechastain) August 3, 2021
While some in the crypto community pointed out that Chastain had not had a chance to defend himself following the accusations, OpenSea has since published a blog post confirming that an employee had used insider information to buy items before they were promoted on the website. The announcement read:
"Yesterday we learned that one of our employees purchased items that they knew were set to display on our front page before they appeared there publicly. This is incredibly disappointing."
The team added that it was conducting an "immediate and thorough" review of this incident, before adding that team members are not permitted to buy or sell NFTs from featured or promoted collections or use confidential information.
Nevertheless, the revelation has raised concerns of centralization and market manipulation. There is also a lack of transparency over the criteria for listing a project on OpenSea's homepage.
OpenSea has faced criticism from NFT collectors in recent weeks. Some have taken shots at the 2.5% trading fee the platform charges, as well as the search functions and categorizations. Last week, a bug on the platform destroyed $100,000 worth of NFTs. Still, the marketplace is by far the biggest for NFTs by trading volume. It processed $3 billion in volume last month and currently tops the leaderboard for the most ETH burned since EIP-1559.
It remains to be seen how OpenSea will ensure any such incidents do not occur in the future and whether the team has plans to decentralize its governance so that insiders within the company are more accountable.