News
,
Project
Orion Protocol Establishes the First and Only Decentralized Gateway to the Entire Crypto Market
The cryptocurrency ecosystem has grown significantly over the last few years. However, the use of digital assets is only limited to tech-savvy individuals, especially from countries where cryptocurrencies are gaining more mainstream attention and status.
For most of the world's population, the concept of digital currencies seems a bit far-fetched, primarily due to the lack of awareness, region-specific regulations, and the complications of registering a trading account and entering the ecosystem.
Orion Protocol, built on the most advanced liquidity aggregator ever developed, aims to lower crypto's entry barriers, empowering the global population to participate in the 21st-century financial revolution.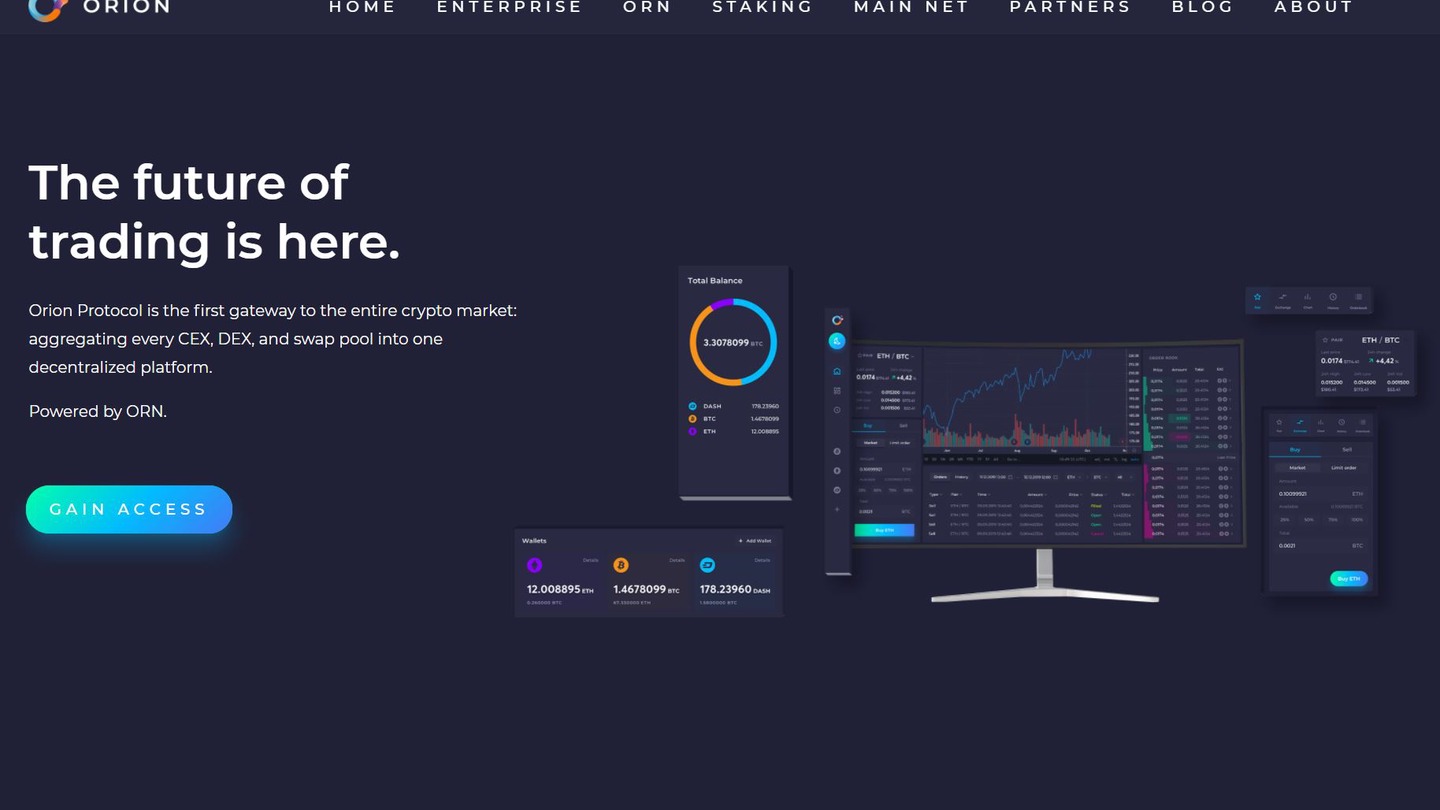 The Orion team has recently unveiled its fully decentralized automated market-maker (AMM) solution that aggregates the liquidity of centralized exchanges (CEXs), decentralized exchanges (DEXs), and swap pools in a unified platform titled Orion Pool.
Overcoming The Hurdles of CEXs And DEXs
Although centralized exchanges have played a critical role as the entryway to the expanding universe of cryptocurrencies, increased scrutiny from government and financial regulators has severely impacted its reach and potential footprint.
Due to this reality, almost every CEX has been forced to tighten onboarding processes, which has increased the registration complications for the average user. Between multiple KYC and AML verifications to weeks waiting for approval, users find it challenging to enter the crypto ecosystem.
Leading CEXs like Binance have come under the radar of financial regulators, primarily due to their more lax internal controls, which have drawn the ire of enforcement officials. A ruling by the Financial Conduct Authority (FCA), wherein Binance faced orders to stop operating in the UK, is one of the most recent examples of the ongoing regulatory crackdown.
And to add to the complications, signing up for an account on a centralized exchange has now become a painfully exhausting process. CEXs pose another inherent problem: users give up authority over their digital assets, which is critical for custody-oriented users who value sole control over their private keys.
Decentralized exchanges (DEXs) established themselves as a genuine solution, overcoming the problems presented by CEXs. These platforms allow users to keep complete control over their wallets and private keys. Compared to CEXs, DEXs don't need users to undergo complex AML and KYC verifications, which is a relief for the majority of the new users. However, DEXs come with their own obstacles, including complicated user interfaces, no support for fiat currencies, and liquidity shortages.
As the first and only solution to these problems of CEXs and DEXs, Orion Protocol offers users global and decentralized access to every CEX, DEX, and swap pool in the crypto ecosystem, that too from a single user interface. Constructed on top of Binance Smart Chain and Ethereum, Orion Protocol, via its proprietary Orion Pool and Orion Terminal, surmounts the complications of region-specific regulations. Users from all corners of the globe can seamlessly access leading exchanges like Binance and KuCoin without geographical restrictions or regulatory limitations.
Powered by the ORN token and the Delegated Proof of Broker governance mechanism, Orion allows users to trade across both CEXs and DEXs, as well as swap pools, without the need to create several accounts. The platform has partnered with pre-verified traders and exchanges, who trade on behalf of the users, thus eliminating the need for users to undergo multiple verifications.
The platform addresses the considerable concerns hampering more widespread cryptocurrency adoption while lowering the risks and complications associated with using multiple exchanges, enabling the global population to begin their crypto trading journey.