NFTs
Deadmau5's Pixelynx Unveils NFT Scavenger Hunt: 'Rock Band Meets Pokémon Go'
The Elynxir music metaverse game from Deadmau5 and Richie Hawtin comes to life in Miami this week through augmented reality.
In brief
Pixelynx, a music metaverse startup co-founded by Deadmau5 and Richie Hawtin, is launching part of its Elynxir game this week.
An augmented reality (AR) scavenger hunt will take place in Miami, and winning players will help control a virtual music act within Elynxir.
Some music fans' initial steps into the metaverse—and first experience owning an NFT—could come through a Pokémon Go-like augmented reality (AR) game. At least, that's the hope of Pixelynx, a Web3 startup co-founded by electronic music icons Joel "Deadmau5" Zimmerman and Richie Hawtin.
Pixelynx announced today that it will begin rolling out its Elynxir music metaverse gaming platform this week with the launch of an AR scavenger hunt set throughout Miami Beach, beginning alongside the annual Art Basel event.
Inder Phull, co-founder and CEO of Pixelnyx, described the scavenger hunt quest—called Go Astral—as a "Rock Band meets Pokémon Go experience," citing the two successful video game brands. Elynxir's platform is being built on Polygon, an Ethereum scaling network.
Like Pokémon Go, the Elynxir app will layer digital content atop users' real-world surroundings when viewed through a smartphone, letting them interact with music-themed items in the world. During the scavenger hunt, users will try to win one of 20 fractionalized pieces of an NFT from what the company says is an existing "blue chip" profile picture (PFP) project.
By owning one of those fractionalized NFTs, players can help shape the future of a virtual musician that will be introduced on the Elynxir platform. Phull said that the aim is to gamify the concepts of coordination and collaboration, letting these early users develop a virtual artist that can potentially thrive within the upcoming music metaverse platform.
"What we want is to give a number of winners the promise of voting rights, in a sense, to this virtual act," he explained, "and for the community to then collaborate and make proposals on how this virtual artist will evolve."
This isn't the first instance of an NFT-driven virtual band or artist. Kingship, for example, is a major-label virtual band made up of characters inspired by Bored Ape Yacht Club NFT avatars, with Grammy-winning musicians Hit-Boy and James Fauntleroy penning the music. Producer Timbaland, meanwhile, launched his own record label for Bored Ape-based artists.
In this case, Phull said that Deadmau5 and Hawtin may be among the artists that ultimately collaborate with Elynxir's virtual act, plus Pixelynx has partnered with a range of labels including Spinnin' Records (part of Warner Music Group) and Mau5trap Records. Eventually, the virtual artist will join others to form a supergroup on the music metaverse platform.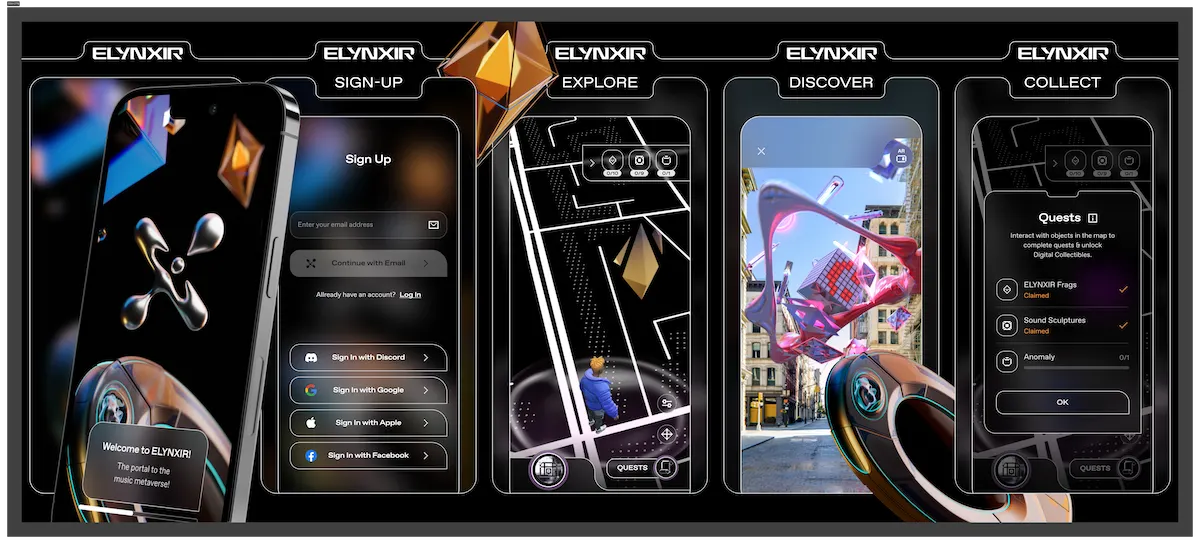 Elynxir's AR app uses the Niantic Lightship engine from Pokémon Go developer Niantic, and that studio also invested in Pixelynx. The real-world dynamic should be familiar to anyone who's played the smash Nintendo collaboration, but with a look and feel unique to Elynxir. Phull says the AR app is designed to help shepherd new users into Web3 and NFTs.
"It's super simple in terms of onboarding," he said. "The idea is you can get your first NFT for free, in principle. The idea is just to start giving fans a new way to get a digital collectible, and then slowly onboard them into the ecosystem where we've got more products and experiences that we're going to start releasing next year."
Elynixr will be a multi-platform music-centric metaverse experience, with the AR app—which will offer further functionality beyond this first scavenger hunt—serving as just one part of the overall equation. A more lavish digital experience is being built with Unreal Engine, and will feature user-generated content and opportunities for fans to collaborate alongside musicians.
"We're really excited about exploring this intersection between music, gaming, and Web3, thinking about: How would you grow the music industry?" said Phull. "Gaming really presents the rails for music to grow and become something much more than just a static format."
Deadmau5 has pursued a number of NFT collaborations in the past, including drops in Web3 games like Blankos Block Party and The Sandbox. Pixelynx previously released reactive music NFTs that will serve as early access passes into Elynxir.
The firm was founded in 2020 and raised $4.5 million last year in a seed round led by noted metaverse investor Animoca Brands, with participation from Solana Ventures, Everyrealm, and others. Alameda Research, the trading firm that played a key role in the recent collapse of crypto exchange FTX, also invested in the round.
Phull said that the electronic musician built the first playable version of Pixelynx's platform, and that he and Hawtin (a.k.a. Plastikman) are both immersed in building Elynxir into the metaverse destination for music enthusiasts. They're each also "developing their own tech," Phull added, which Pixelynx then plans to incorporate into its ecosystem.
"They're deeply involved as technologists and musicians," Phull asserted.