HSBC and The Voice have filed metaverse, NFT, and crypto trademark applications
HSBC plans to issue a virtual currency exchange and digital media authenticated by NFTs
ITV Studios will develop virtual merchandise for "The Voice metaverse," as well as virtual entertainment events
British multinational bank HSBC and international reality TV show The Voice have filed metaverse and NFT trademark applications.
The companies filed the trademarks with the U.S. Patent and Trademark Office (USPTO) on December 15. USPTO's licensed trademark attorney Mike Kondoudis shared the news on his Twitter.
HSBC reportedly plans to provide a series of NFT, metaverse, and cryptocurrency-related services. The bank will issue downloadable computer programs featuring cash, cheque, and debit cards, as well as downloadable artwork, text, video, and music files authenticated by NFTs. HSBC will also provide metaverse financial advisory services. For instance, the company will teach users how to use virtual cards in the metaverse and develop virtual currency exchange. More than that, the multinational bank plans to create communities and host events and performances in virtual worlds.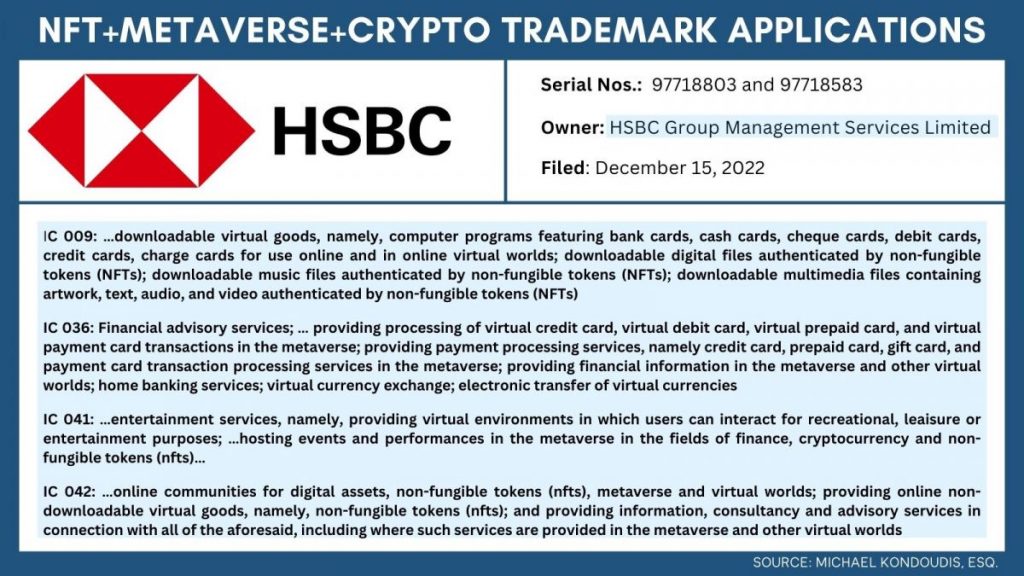 ITV Studios Netherlands Content filed NFT and metaverse trademark applications for "The Voice Metaverse." The trademark covers AR, VR, NFTs, metaverse, and online gaming advertising and marketing.
ITV Studios will issue The Voice-branded virtual clothing, eyewear, bags, virtual toys and art, cosmetics, games, and other items. The merchandise will reportedly be available for purchase in virtual retail stores. The singing TV show will also present virtual entertainment events, such as contests, game shows, and performances. In addition, The Voice fans will be able to create digital designs for the show's characters and use them in dedicated virtual worlds.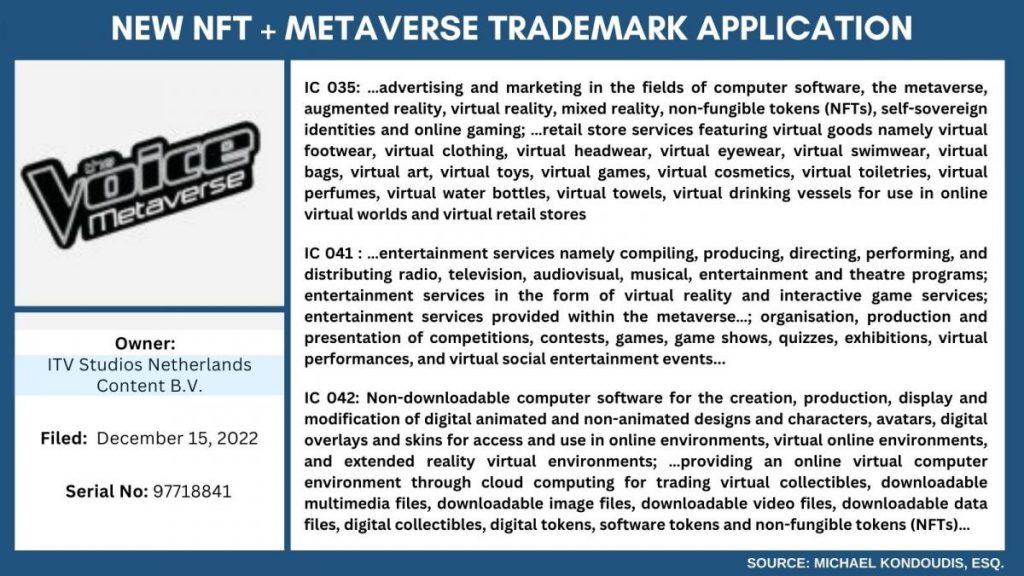 Similarly to HSBC, automobile manufacturer Mercedes-Benz filed NFT and crypto-related trademark applications for "Mercedes Benz, Mercedes, S-Class, G-Class, and Maybach" on December 14. The company plans to develop digital currency, NFTs, and retail stores for virtual items.