Bitcoin
,
News
Saylor Says You Haven't Missed The Bitcoin Boat
Bitcoin is up more than 200% since mid-December and is hovering around $57k. The cost now feels like an insurmountable hurdle to breach for many who were previously on the fence. To those people, MicroStrategy CEO Michael Saylor says, "you haven't missed the boat."
Bitcoin is The Ultimate Hedge to Hold Against Inflation
Speaking to Bloomberg TV, Saylor dismissed any notion of being too late to ride the Bitcoin train. He said he bought his first BTC at $10k and has continued buying ever since, regardless of its price. What's more, he added that he would stick to this strategy even if the price hits $100k and $200k.
"First, you haven't missed the boat. People like me, I bought at $10k, I bought it at $57k. I'll be buying it at $100k, $200k…"
A little over a year ago, following the panic-induced market crash, Bitcoin hit a low of $3.7k. At the time, fears about the end of cryptocurrency were genuine. But as the months wore on, Bitcoin shrugged off these concerns, demonstrating its resistance to bearish macroeconomic factors.
But Saylor doesn't recommend people buy Bitcoin for the sake of it. Instead, he asks that people educate themselves on the matter and then make an informed decision. In his case, what spurred his decision to invest in Bitcoin is his estimate of a 15%-17% average inflation.
"The one thing you've got to do as an investor, in my opinion, is you have to estimate the rate of monetary inflation each year for the next eight years. And you have to fill in a spreadsheet with your estimate. Is it 15% a year? Is it 20? Is it 5? Is it 7? That drives every other decision you make."
Inflation is The Silent Thief
Current data for February 2021 put the U.S. inflation rate at 1.7%, up 0.3% from the previous month. Over the last 11 years, using linear regression, the official stats show a downward trend in the annual inflation rate.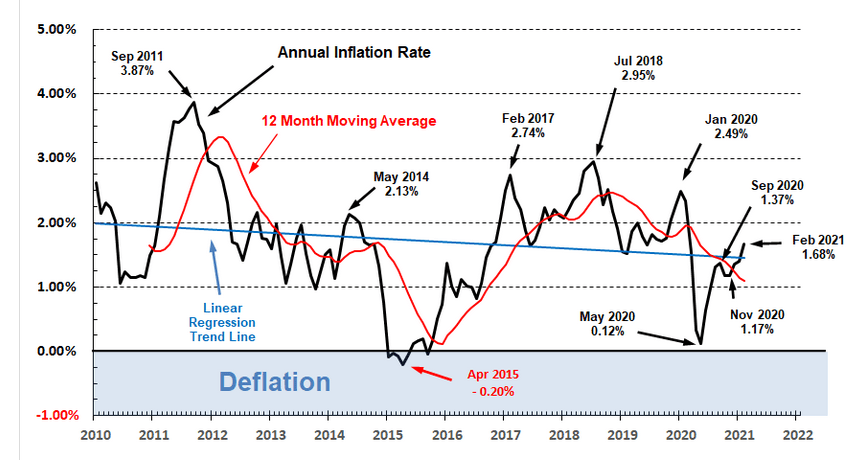 Source: inflationdata.com
However, while Saylor did not explicitly mention this, the Consumer Price Index (CPI), which forms the basis for inflation calculations, attracts its fair share of criticisms. Chief among them is the switch from a cost of goods index (COGI) to a cost of living index (COLI). Critics say this change has allowed the U.S. government to report a lower CPI to understate the true inflation figure.
John Williams has charted inflation with the Bureau of Labor Statistics methodologies used in both 1990 and 1980. Based on Williams' data, the 1990 methodology puts the current inflation rate at around 5.5%, while the 1980 methodology shows a close to 10% figure.
Bitcoin is considered an inflationary hedge because of its fixed supply. But, during these uncertain times, it has also taken on the role of hedging against government instability.
With that in mind, even at $57k, a little Bitcoin stored away could be a prudent response to what may lie ahead.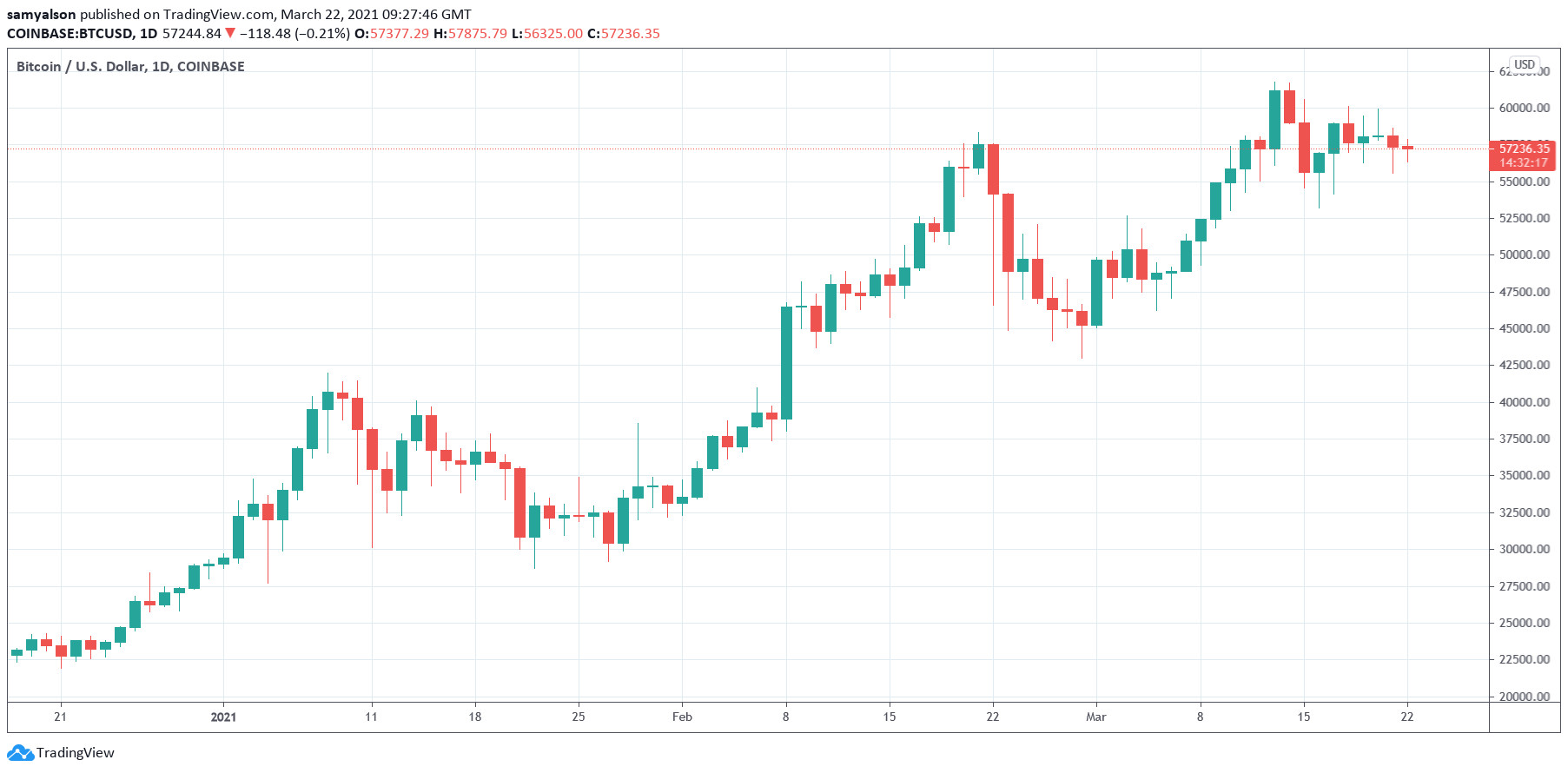 Source: BTCUSD on TradingView.com