Metaverse
,
Sports
Upland and FIFA Launch Immersive FIFA Women's World Cup Experience in the Metaverse
Upland, the leading web3 Metaverse SuperApp, has announced its collaboration with FIFA to bring football fans a fully immersive web3 experience centered around the FIFA Women's World Cup Australia & New Zealand 2023TM. This partnership aims to unite fans from across the globe in a digital realm where they can engage in FIFA-related activities, celebrate their love for football, and participate in one of the largest global events in women's football.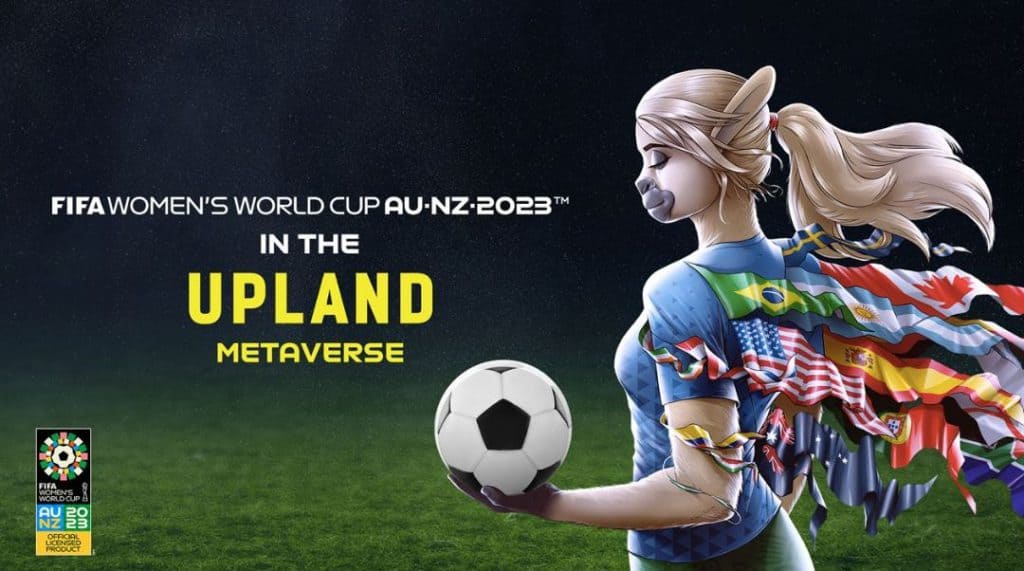 The FIFA Women's World CupTM is renowned for its passionate fan community and the unparalleled excitement it generates for women's football. Through Upland's metaverse platform specifically designed for the FIFA Women's World Cup Australia & New Zealand 2023TM, football enthusiasts now have the opportunity to explore the vast potential of the immersive web. With a focus on community, Upland enables fans to connect in FIFA Women's World Cup AU∙NZ∙2023TM-themed Cafes, where they can chat, cheer, and celebrate women's football together. By participating in platform-sponsored events, contests, and challenges, fans can fully immerse themselves in their football fandom within the metaverse. Upland has also introduced a captivating collection experience that combines gamified elements with unique digital assets and highlight videos.
The Upland experience for the FIFA Women's World Cup includes:
Digital Collectibles and Videos: Fans can acquire digital collectibles and videos capturing memorable moments from FIFA tournaments.
Platform-Sponsored Community Events: Participation in these events increases a user's Fan Score, fostering competition and engagement.
FIFA Women's World Cup AU∙NZ∙2023TM-themed Cafes: 3D immersive spaces where fans can socialize and connect with fellow football enthusiasts.
Community-Created Games and Experiences: Leveraging FIFA tournament-based digital collectibles, fans can create their own games and experiences within the metaverse.
Within the Upland Metaverse, fans can access FIFA Women's World Cup AU∙NZ∙2023TM collectibles in an engaging and gamified manner, allowing them to showcase their team pride. Through the acquisition of Bundles, fans can own digital collectibles representing all thirty-two participating countries, displaying their loyalty and support within the virtual world of Upland. These collectibles enable fans to proudly wave flags in their neighborhoods or explore the vast Upland world, representing their favorite teams.
In Upland, the community's competitive spirit is measured through the Fan Score, which determines top fans. Factors such as collection completions, participation in platform-sponsored community events, neighborhood decoration contests, trading challenges, and previous purchases of FIFA World Cup Qatar 2022TM Legits contribute to a player's Fan Score. Fans with high Fan Scores will also have the opportunity to compete in unique and exclusive cross-tournament collections. Some bundles even include Passes that can be exchanged for highlight videos, preserving the memorable moments of a fan's favorite play in selected FIFA tournaments.
Dirk Lueth, Upland Co-Founder and Co-CEO, expresses excitement about the ongoing web3 experience in Upland for the FIFA Women's World Cup AU∙NZ∙2023TM. Lueth emphasizes the goal of building sustained momentum for FIFA tournament growth in the Web3 category, solidifying Upland as the Metaverse Super App.
While the competitive element will be present, the FIFA Women's World CupTM experience in Upland primarily aims to facilitate interaction and engagement among football fans worldwide. Upland serves as a bridge between the digital and physical realms, allowing players to meet like-minded fans in virtual Cafes, share success stories, discuss virtual business propositions, and proudly display their team's colors on their virtual properties.
One of the unique aspects of Upland's web3 platform is its provision of tools that empower players to create their own games and experiences using FIFA tournament digital collectibles. True ownership of these collectibles enables the Upland community to gamify their own ideas and further enhance their engagement within the metaverse.
The Upland and FIFA Women's World Cup Australia & New Zealand 2023TM experience aims to create a lasting connection between past, present, and future FIFA tournaments. Fans will enjoy a continuous engagement with their favorite national teams, collecting rare digital assets, earning rewards for demonstrating team pride, and having the freedom to create their own experiences through true ownership. The FIFA Women's World Cup Australia & New Zealand 2023TM in the Upland Metaverse is available on Google Play, App Stores, and the web, offering an immersive experience to fans worldwide.
About Upland:
Upland is an open web3 platform and Metaverse Super App dedicated to building the largest and most dynamic open metaverse economy. Serving as both a hub and a home, Upland is rooted in virtual real estate property trading, mirroring the real world. As a Super App, Upland centralizes shared experiences, games, entrepreneurial opportunities, and immersive social environments, empowering communities to expand their footprint and elevate their digital lives. With a global community of over 3 million registered accounts, Upland is fostering a dynamic maker-community through a strong entrepreneur economy, allowing players, creators, developers, and brands to manufacture goods and experiences, monetize assets, and provide utility and fun for other players. Headquartered in Silicon Valley, with additional hubs in Las Vegas, Ukraine, and Brazil, Upland has been recognized as one of Fast Company's "Next Big Things in Tech" in 2021 and one of "22 San Francisco Startups to Watch in 2022" by Built In SF. Upland is committed to becoming carbon negative and proudly partners with Carbonfuture. For more information on their sustainability commitment, please visit https://www.upland.me/sustainability. Upland is available on iOS, Android, and the web, allowing players to engage from anywhere in the world.
About FIFA:
FIFA was created to regulate football and advance the sport internationally. Since 2016, the organization has rapidly developed into a body that can serve our game more effectively for the benefit of everyone on the planet.